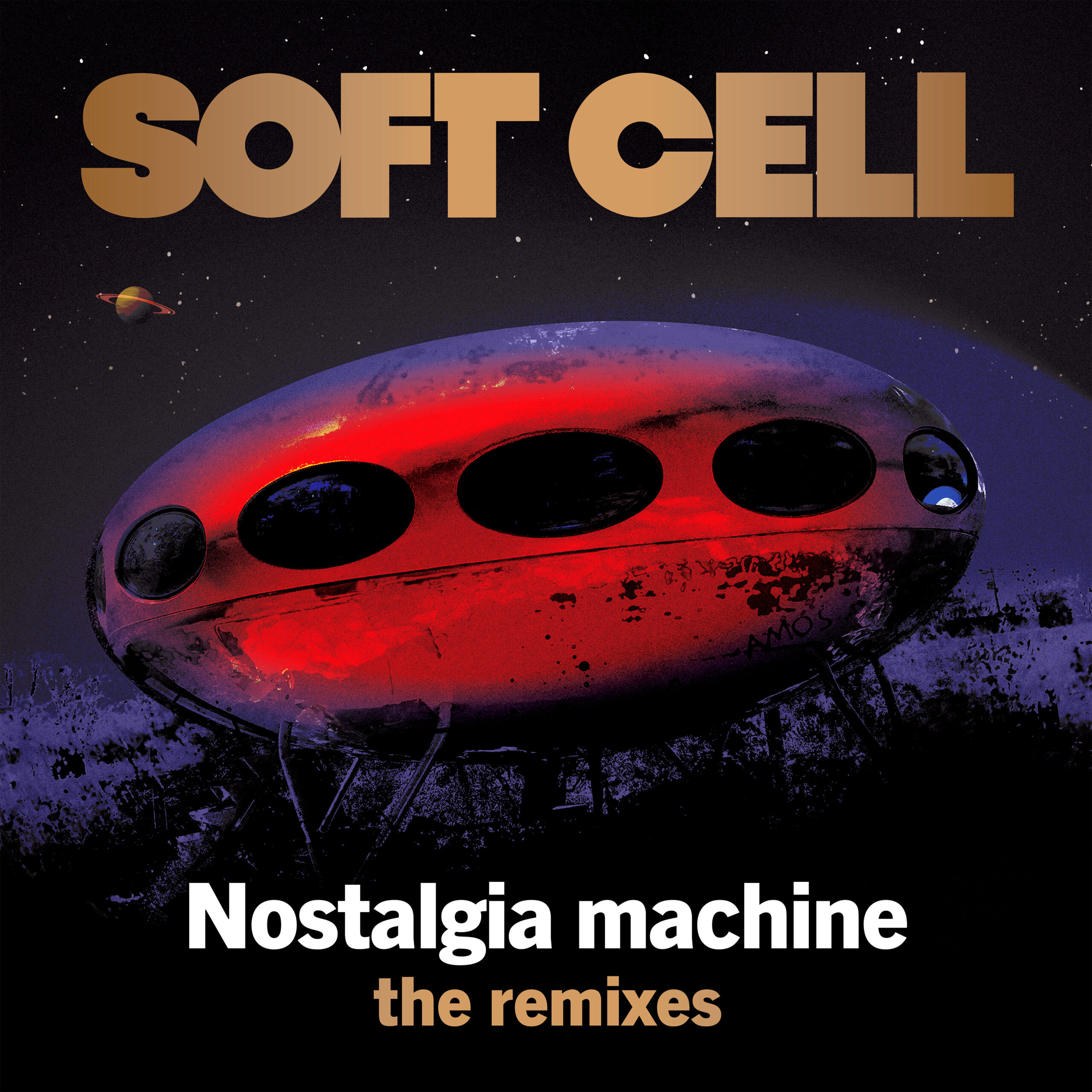 Nostalgia Machine Landing Again For Summer 2023!
Soft Cell follow up 2022's acclaimed Top 10 long player *Happiness not included with the release of two expanded album editions via BMG on 28th July.  They also release a new single, Nostalgia Machine with brand new remixes by Hifi Sean and Wally Funk on 11th August.
Hifi Sean is a DJ and producer who has worked with an incredible list of artists over the years, including Yoko Ono, Alan Vega, Bootsy Collins, The B-52's and Crystal Waters. The latter scored a U.S Billboard Dance #1 with Crystal for his single 'Testify'.
A very sought after remixer, and very selective about who he works with, but a huge Soft Cell fan, who has remixed previous tracks for Marc and Dave, and road tests his remixes DJing in some of the world's top nightclubs.
Wally Funk are a young production duo from Mitte, Berlin recently remixed Soft Cell's seminal 'Memorabilia' which is currently creating waves in underground clubs on the continent.  Their Italo Disco-influenced sound is set to tear up dancefloors on this, only their fifth ever remix.
*Happiness now extended is a limited-edition double vinyl album, featuring longer versions of all twelve tracks from the original May 2022 release, and including the singles – airplay smash Purple Zone (with Pet Shop Boys), Bruises On All My Illusions and Nostalgia Machine.  Restricted to 1000 copies, it is available to pre-order now from softcell.co.uk
So fruitful also were the original *Happiness not included sessions that the CD version of the album, subtitled *Happiness now completed features ten brand new Marc Almond and Dave Ball tracks, plus unreleased mixes, remixes and single-only tracks.  The new 78-minute set fits snugly into to the rear section of the original *Happiness not included CD book format, with no versions on the vinyl duplicated on the CD.  Both formats also feature brand new sleeve designs.
Soft Cell are currently performing their biggest run of live shows since 2002, with remaining dates as follows:
23rd July – Barcelona Poble Espanol (headline)
11th August – Audley End House & Gardens (with special guests OMD and Heaven 17)
9th September – Wiston House, Steyning (near Worthing, Sussex, UK)
16th September – Radio 2 in the Park (Leicester, UK)
18th November – Dark Waves Festival (California, US)
29th February 2024 – The 80s Cruise (Departing Florida, US)