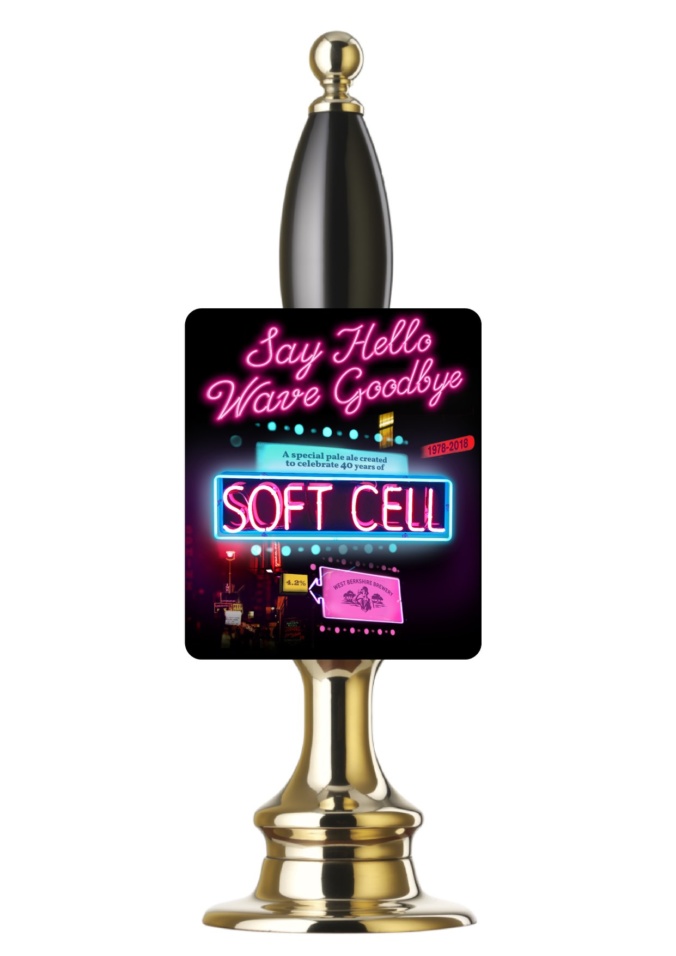 WEST BERKSHIRE BREWERY & SOFT CELL LAUNCH 'SAY HELLO WAVE GOODBYE' BEER
West Berkshire Brewery (WBB) and synth-pop duo Soft Cell have collaborated to create a limited edition new beer named 'Say Hello Wave Goodbye', available exclusively in Mitchells & Butlers pubs in cask from 3rd September.
'Say Hello Wave Goodbye', 4.2% ABV, is a pale ale inspired by the classic English Bitters enjoyed by the band during their early years in Leeds, with the addition of New World hops to reflect their time in America. The beer has flavours of digestive biscuit, toffee, grapefruit and orange and will be on tap across the popular M&B brands Nicholson's Pubs, Ember Inns and Castle Pubs for three months as part of their Autumn Seasonal Cask Range. A 5.2% bottled version of the beer will also be available as an extremely limited edition one-off brew with a release date yet to be announced.
The pale ale will be available just in time for the band's final show at the O2 in London on 30th September.  The show and the beer are both named 'Say Hello Wave Goodbye' as tribute to one of Soft Cell's best-known songs from the duo's 1981 debut album Non-Stop Erotic Cabaret. The classic Number One 'Tainted Love' was also taken from the same album, which remains one of the biggest-selling singles of all time in both the UK and the US.
Mitchells and Butlers' Beer and Cider Procurement Manager Ben Lockwood said "Our guests really engage with collaborations such as this, and having a band as iconic as Soft Cell step in to the beer world will only stimulate more great conversations in our pubs this Autumn"
Ruth Mitchell, National Account Manager for WBB said "We are so pleased to be working with M&B and Soft Cell on this project and can't wait to see the beer in fans hands!"
Dave Ball of Soft Cell commented "A pint is a game of two halves, and I can confirm that no synthesisers were used in the making of this product".
The collaboration has been brought together by music marketing consultancy Renegade Music who have successfully delivered several beer and music collaboration projects for bands such as elbow, Stereophonics and New Order.
Beer fans will be able to try the new brew at Mitchells & Butlers pubs across the UK, including Leeds' famous Scarborough Arms, where the band used to drink, and also a number of legendary London watering holes including The Crown And Two Chairman and The Marquis Of Granby, located in the Soho setting of many Soft Cell songs.